Weddings at Ingatestone Hall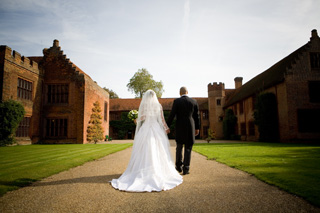 Whether you are planning to celebrate your wedding in the company of twenty or two hundred of your friends and family, Ingatestone Hall can provide a most attractive setting for the festivities.
We do insist that any extra catering required is provided only by one of the Recommended Suppliers we approve. As far as marquee contractors, entertainers etc., you are free to choose the ones you want and a list of suggested Recommended Suppliers is availiable.
We do not have our own "wedding planner" who may constrain your imagination, this allows you to create the day which suits your own style and personality. However, our Events Co-ordinator, Mr Christopher Singh, will be able to guide you through the process.

The premises are licensed for live music and for the consumption of alcohol.
Ingtatestone Hall possesses a Civil Ceremony Licence so it is able to host weddings and civil partnerships. Click below on the Plans and Spaces button to see details those spaces that are available for this purpose. For those planning a church wedding, the Hall is conveniently near to a number of picturesque country churches - Fryerning, Mountnessing, Buttsbury and Margaretting.

There are five principal rooms inside the house and four main areas in the gardens and grounds that are available for your use, either individually or in combination.
See the Plans and Maps of the house and grounds and Spaces available for a description.
It is possible on these pages to give only a broad impression of the many ways in which the house and its grounds can be used; you are cordially invited to make an appointment for a free tour of the facilities on offer and a chance to soak up their special atmosphere. Because of the many different formulae and layouts that are available for you to choose, we do not publish a fixed scale of fees.
Because every person and event is unique we do not produce anything in the way of a formal brochure. If you are interested in booking us for your event the first step is to please Contact Ingatestone Hall with details of your your chosen format, we can then arrange a visit to discuss further your requirements.
All hirings are subject to our standard conditions, please see our Conditions of Hire.