Exhibitions & Fairs at Ingatestone Hall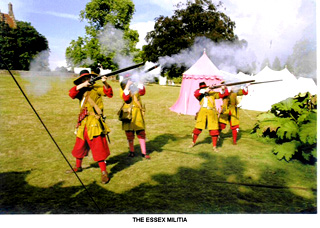 Over the past twenty years, Ingatestone Hall has successfully hosted a wide variety of exhibitions, fairs, rallies and displays from small exhibitions of paintings by local artists to three day tented trade fairs with up to 100 stallholders attracting several thousand visitors per day. Some of these events have become regular features of our annual programme -
The Daimler & Lanchaster Classic Car Show
These and many other marques on static display.
The Essex Militia
An evocation of everyday life in the 17th century.
Flower Festival
Tudor Weekend
Outside Cinema

Five principal rooms inside the house and four main areas in the gardens and grounds are available for your use, either individually or in combination. The Meadow Car Park has a capacity of 400 cars but, in addition, there are 4 meadows of between 2½ and 8 acres which can be used for supplementary parking or for outside events or exhibitions.
See the Plans and Maps of the house and grounds and Spaces available for a description of the principal spaces within them.
We do insist that any extra catering required is provided only by one of the Recommended Suppliers we approve. As far as marquee contractors, entertainers etc., you are free to choose the ones you want and a list of suggested Recommended Suppliers is available.
Because of the many permutations possible, you are invited to ask for a bespoke quotation of the fee for the particular arrangements that you require. Please Contact Ingatestone Hall using our on-line form. By way of illustration, examples of some popular formats are as follows (2023 prices, excluding the supply of any refreshments or catering). All hirings are subject to our standard conditions, please see our Conditions of Hire.
Example 1
One-day exhibition in the Summer Parlour. 9 a.m. - 6 p.m. expecting about 200 people, each staying for about 2 hours.
Parking in the Meadow Car Park and access via the Main Drive.
£1,200 plus VAT
Example 2
Provision for 2-day (7 hours per day) 540m2 tented exhibition in the Courtyard expecting about 1000 people each day, each staying for about 3 hours.
Parking in the Meadow Car Park and access via the Main Drive.
£3,720 plus VAT
(excluding cost of the marquee itself.)
Example 3
Four hour open-air event in Tilehurst Meadow (5½ acres) expecting about 100 people.
Parking in the Water Meadow Car Park.
£290 plus VAT
For a personal quotation of the charge for your chosen format, please Contact Ingatestone hall
Some of the events which take place at Ingatestone Hall (art exhibitions, historical displays etc.) are presented as part of the routine public opening . We are always prepared to discuss special terms for such arrangements.