Receptions & Dinners at Ingatestone Hall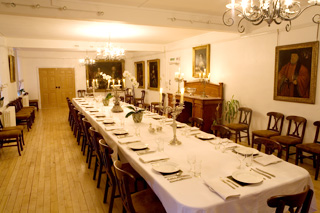 Dinners and receptions are regularly held at Ingatestone Hall. Organisations that have held such an event recently include Essex County Council, Essex Community Foundation, Essex Community Trust and the Magistrates Association. Whether you are planning a private celebration for a wedding anniversary or birthday, an annual meeting or reunion for your club or association or a networking event for your business clients and colleagues, it provides a most attractive setting for the occasion.
We do insist that any extra catering required is provided only by one of the Recommended Suppliers we approve. As far as marquee contractors, entertainers etc., you are free to choose the ones you want and a list of suggested Recommended Suppliers is availiable.
There are five principal rooms inside the house and four main areas in the gardens and grounds that are available for your use, either individually or in combination.
See the Plans and Maps of the house and grounds and Spaces available for a description.
It is possible on these pages to give only a broad impression of the many ways in which the house and its grounds can be used; you are cordially invited to make an appointment for a free tour of the facilities on offer and a chance to soak up their special atmosphere. Because of the many different formulae and layouts that are available for you to choose, we do not publish a fixed scale of fees.

For a personal quotation of the charge for your chosen format, please Contact Ingatestone hall
All hirings are subject to our standard conditions, please see our Conditions of Hire. The premises are licensed for live music and for the consumption of alcohol.