Conferences & Seminars at Ingatestone Hall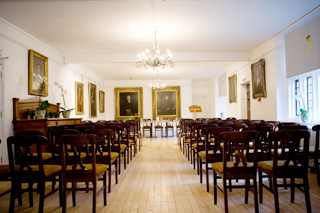 Ingatestone Hall provides a peaceful and relaxing setting for conferences and seminars of all kinds, particularly if you are looking for something less stark and soulless than the conventional conference centre. Corporate away-days, seminars and presentations for clients and committee meetings are among the formats that can be accommodated.
We do insist that any extra catering required is provided only by one of the Recommended Suppliers we approve. As far as marquee contractors, entertainers etc., you are free to choose the ones you want and a list of suggested Recommended Suppliers is availiable.
There are five principal rooms inside the house and four main areas in the gardens and grounds that are available for your use, either individually or in combination.
See the Plans and Maps of the house and grounds and Spaces available for a description.
In addition to the rooms illustrated, there are another six welcoming, smaller rooms which can be used for break-out sessions or displays.
It is possible on these pages only to give only a broad impression of the many ways in which the house and its grounds can be used; you are cordially invited to make an appointment for a free tour of the facilities on offer and a chance to soak up their special atmosphere. All hirings are subject to our standard conditions. Please see our Conditions of Hire. The premises are licensed for live music and for the consumption of alcohol.
Because of the many permutations possible, you are invited to ask for a bespoke quotation of the fee for the particular arrangements that you require. By way of illustration, examples of some popular formats are as follows (2023 prices, excluding the supply of any refreshments or catering) :
Example 1
Three hour seminar or meeting for 30 in the Summer Parlour.
Parking in the Meadow Car Park and access via the Main Drive.
£390 plus VAT
Example 2
All day (8 hours) conference for 60 in the Summer Parlour & the Stone Hall (including the use of four break-out rooms).
Parking in the Meadow Car Park and access via the Main Drive.
£3,630 plus VAT
Example 3
All day (8 hours) use of the house downstairs and front grounds for 85 delegates or guests.
Parking in the Meadow Car Park and access via the Main Drive.
£5,270 plus VAT

For a personal quotation of the charge for your chosen format, please Contact Ingatestone hall